February 1, 2020
Investing in Ukraine: overview
Every year, Ukraine is becoming an increasingly attractive investment destination, as the country represents a comparatively large market with over 42 million consumers. Not only the labour force but also raw materials and other production costs, including electricity and water, are cheaper if compared to employees from the developed countries.
Foreign direct investment
A lot of things have improved in Ukraine in the past couple of years with the ease of doing business, a supportive environment for investment and government cooperation being the main advantages. According to the State Statistics Service of Ukraine, in 2018 Ukraine received USD 2.87 billion in foreign direct investment, USD 0.36 billion more than in 2017.
Following reforms aimed at protecting foreign investment, Ukraine has become a more attractive destination for international investors. In the Ease of Doing Business 2019 ranking, Ukraine ranks 71st worldwide, up from 76th in 2018. Foreign direct investment contributes to growth and employment. Moreover, Ukraine's 2018 GDP growth reached its highest level since 2011, breaking above 3.3 percent. In addition, for European investors, the proximity to the EU and low labour costs with relatively high job skills of the Ukrainian workforce are making Ukraine a major country of interest.
There are some other attractive investment factors contributing to the expansion of Ukraine's investment ties: a large capacity and virtually unlimited domestic market; the geographical location at the intersection of major transport routes between Europe and Asia; relatively inexpensive and at the same time skilled workforce; scientific potential; a developed infrastructure (ports, airports, railways, warehouses, communication systems and engineering networks), etc.
Another sign of the country's enormous potential is the number of tourists increasing year by year and, according to the Ukrainian Ministry of Economic Development and Trade, reached 14.2 million in 2018.
Foreign Direct Investment (FDI) is indisputably an important factor in stimulating economic growth in Ukraine. The data and analysis of the State Statistics Service of Ukraine reveal that FDI flows to Ukraine in 2018 reached USD 2.87 billion and showed a slight increase compared to 2017 (from USD 2.51 billion). The total FDI stock in 2018 was estimated at USD 31.6 billion.
FDI sources tend to diversify. The Netherlands is the largest investor in the country, having invested USD 951.5 million in 2018. Despite the conflict in eastern Ukraine, the Russian Federation still remains the second largest investor in the country, having invested USD 495.6 million. However, more than half of FDI inflows in 2018 came from European countries, including the Netherlands, as already mentioned, Cyprus, Austria, France, Great Britain and Poland.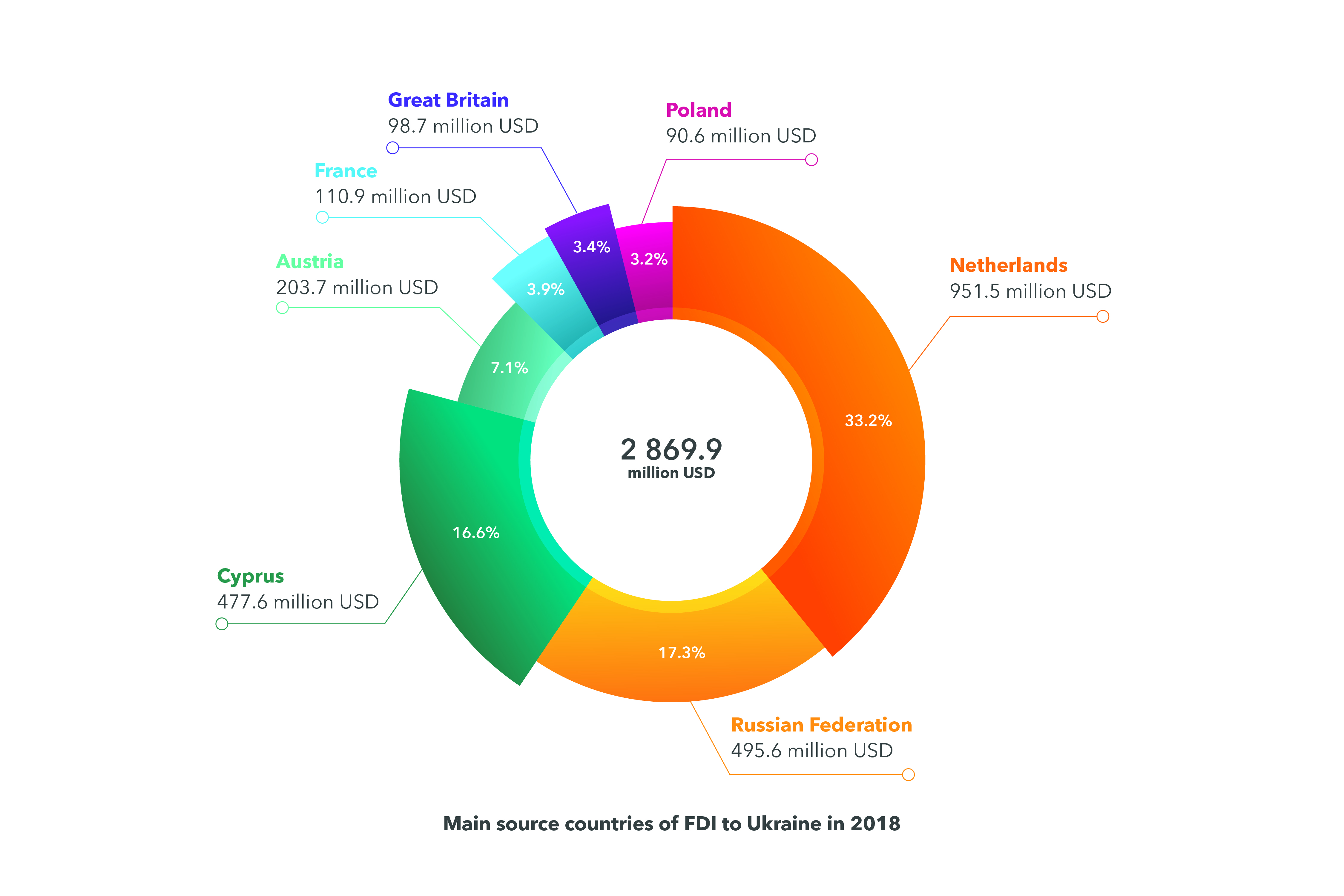 The analysis by sector shows that more than 40% of inward FDI flows are related to finance and insurance – USD 1,215.1 million (42.3%). The leading sectors in terms of FDI attraction in 2018 remain wholesale and retail, repair of motor vehicles and motorcycles with USD 599.4 million (20.9%), real estate operations with USD 405.3 million (14.1%), the manufacturing industry with USD 302.1 million (10.5%), the information and telecommunications industry with USD 119.4 million (4.2%) and professional, scientific and technical activities with USD 93.2 (3.2%).
Inward FDI as of 1 January 2019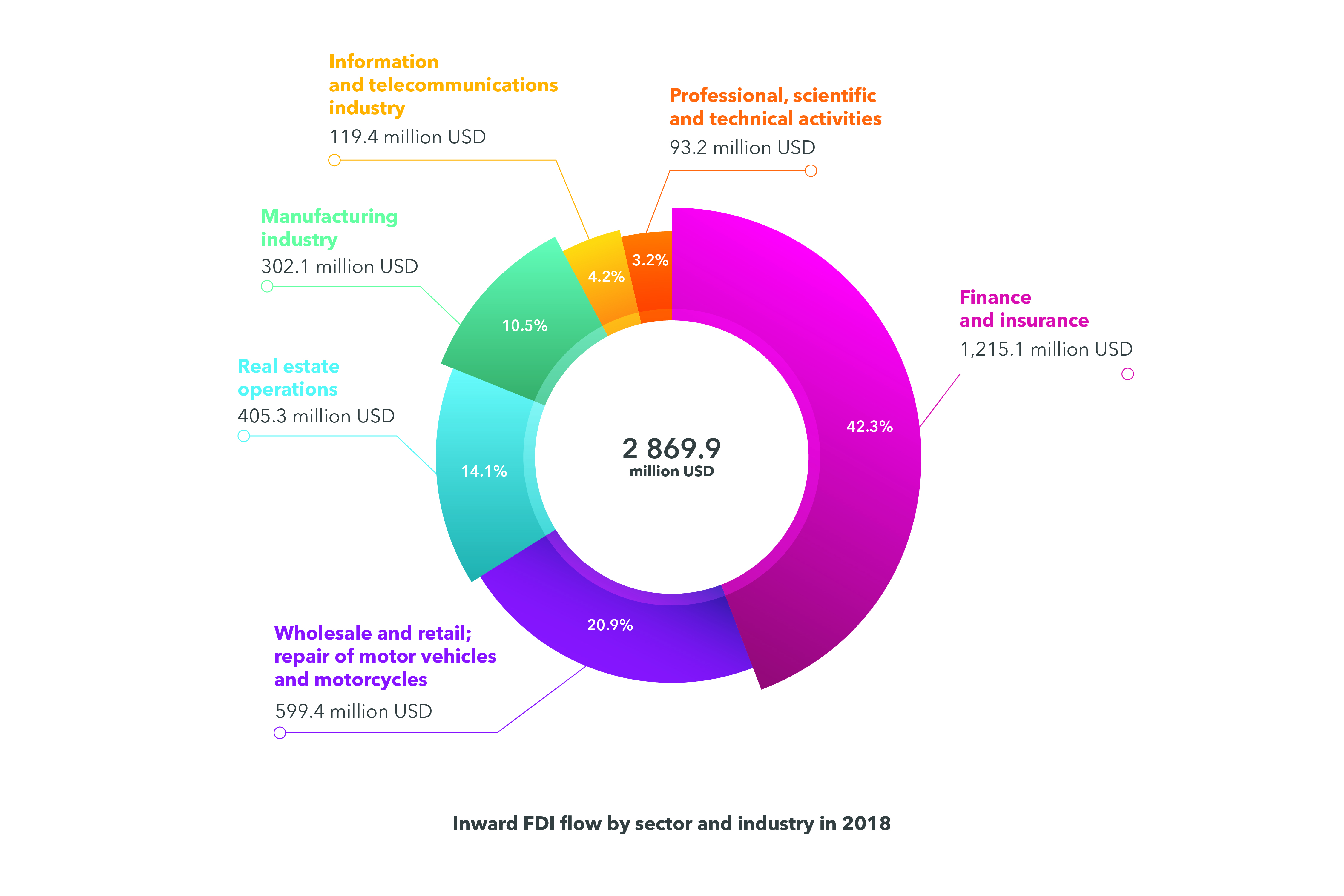 To attract investors, Ukraine offers a lot of legislative advantages, e.g. a feed-in tariff, inward processing, benefits for IT professionals, etc. The Ukrainian economy is being gradually liberalised and currently offers one of the most attractive economic climates for investment.
The sectors, having witnessed the most growth over the past years and thus being the most interesting for investors, include IT industry, agriculture, the automotive industry, the processing industry and the renewable energy sector. Therefore, it is worth taking a closer look at each industry and why it is wise to invest in it.
IT Industry
The Ukrainian IT industry has witnessed its largest burst of growth over the last 10 years and has become the very heart of most investments. In 2018, the IT sector made 4% of the GDP. Ukraine has the largest IT outsourcing and software development industry in Central and Eastern Europe.
Improved economic conditions and financial incentives are encouraging local and foreign investors to invest more in Ukrainian IT firms. For instance, Ukrainian tech start-ups raised a record USD 323 million in 2018. Investments in the Ukrainian IT industry increased by 22% compared to 2017. In 2017, Ukrainian high-tech companies received USD 265 million. This means that local start-ups have raised a total of USD 1 billion over the past five years, making Ukraine one of the most important investment destinations in Central and Eastern Europe. About 90% of the funding comes from foreign investors, with US companies contributing the largest share.
A total of 172,000 people are employed in the Ukrainian IT industry, with 23,000 new IT specialists graduating each year. Over 50% of Ukrainian tech specialists are working for software outsourcing companies.
Agriculture
Agribusiness is a pith and marrow of Ukraine's economy. Historically known as the "breadbasket of Europe", around 25% of the world's highly fertile black-earth soil is in Ukraine. The country is also the world's largest sunflower oil exporter and one of the largest grain exporters.
The major agricultural products placing Ukraine among the top producers in the world market are cereal and forage crops including wheat, maize, barley, sunflower, sugar beets, tobacco, legumes, fruits and vegetables. Producing 90-100 million tons of cereal crops annually, Ukraine maintains a leading position in the world. With an export output of 50-60 million on an annual basis, the country is the third largest grain exporter worldwide.
While foreign investors are well aware of Ukraine's competitive advantages in agricultural farm land, the country is also known for quality and innovation in farming in the agritech sector. Ukrainian agritech companies are on the edge of developing solutions aimed at enhancing the traditional farming practices.
Agriculture remains a priority for the Ukrainian government, especially in the light of signing the Association Agreement and DCFTA with the EU. Due to its huge potential, agriculture continues to be a key sector for investment. The government is currently implementing several projects with assistance of the EBRD, aimed at supporting a sustainable agribusiness in Ukraine.
Automotive industry
For many years, Ukraine has been positioning itself as a supplier location for the German automotive industry. Geographically, the majority of international companies have their seats in the western regions of Ukraine and are mainly export oriented. Sales of spare parts account for about 60% of automotive components turnover.
Given the country's geographical location, skilled workforce, scientific and industrial potential and developed infrastructure, the Ukrainian automotive industry offers vast opportunities for foreign investment.
Ukraine also announced its intention to bring electric vehicle manufacturers to the country. According to the officials, potential investors are ready to work and are waiting for some legislative changes. And while negotiations are underway, foreign plants for the manufacture of automotive components are growing as mushrooms in Ukraine. The automotive factories operating in Ukraine belong to German, Japanese, Austrian and French manufacturers and a number of other companies.
The fact that an increasing number of foreign manufacturers are transferring their production capacity to Ukraine certainly indicates the quality of the Ukrainian workforce and a stable business environment.
Processing industry
Logistically well-connected to the global marketplace, Ukraine has immense potential in the processing industry. In particular, attention should be drawn to the relatively cheap skilled workforce, the favourable geographical position bordering the European Union, the great logistical potential, the advantageous provisions of the Ukrainian customs legislation and a continuously improving business climate.
In particular, the combination of a favourable geographical position – a one-day truck ride away from Europe, huge logistics potential, the EU-Ukraine Association Agreement, relatively inexpensive workforce, and advantageous provisions of the Ukrainian customs regulations makes the country an appealing base for inward processing, a customs procedure of temporary import of foreign goods into the Ukrainian customs territory for a period of up to one year.
The legal provisions of inward processing in Ukraine give foreign companies plethora of opportunities to benefit from Ukraine's geographical position advantages. Even though the legal regulation of inward processing in Ukraine is still in need of reform, many foreign companies are successfully taking advantage of this opportunity to cooperate with local production partners or have already set up their own production facilities for goods processing.
Renewable energy
The feed-in (so called "green") tariff in Ukraine is one of the highest in the world, making investment into this sector very attractive. In recent years, Ukraine's feed-in tariffs have attracted international investors and have engendered a lot of positive hype among them. The feed-in tariff is fixed in EUR until 2030. Ukraine has adopted the ambitious goal of producing 25 percent of its energy from renewable sources by 2035.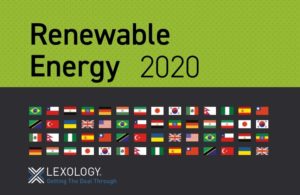 According to the government official data, the renewable energy is still on the rise in Ukraine. The favourable geographical conditions of Ukraine with its intense solar radiation, sufficient wind speed and an investor-friendly legal framework make it possible to develop large-scale renewable energy projects in Ukraine, making the renewable energy industry one of the most attractive industries for investment. Moreover, the country has a huge potential in electricity production from biogas.
In 2018 the renewable energy industry investment totalled around EUR 730 million. In 2018, power plants producing electricity from renewable energy sources with a total capacity of 813 MW were installed in Ukraine, almost 3 times exceeding the previous year performance. In particular, the solar photovoltaic (PV) power plants accounted for 646 MW, wind power installations for 68 MW, biopower plants for another 13 MW and new hydroelectric power stations for 4 MW. Moreover, it was reported that a number of major foreign investors have begun the implementation of 104 renewable energy projects in Ukraine. The total investment in the industry should be about EUR 4 billion. In particular, renewable energy projects in Ukraine will be implemented by Finnish, Danish and German companies. The projects are at different stages of readiness and should be commissioned in the near future.
It should be noted that in March 2018 Ukraine's largest and Europe's third-largest solar power plant with an installed capacity of 200 MW started generating green electricity. 100% funded with private-investor money, the project was implemented within less than a year.
Furthermore, with effect from 1 January 2020, the feed-in tariffs will be partially replaced by "green" auctions in order to provide optimal support for renewable energy producers and balance the electricity market.
Concession
As predicted and now evidenced by the first tenders results, the changes introduced by the Law of Ukraine On Concession brought about a growing interest of foreign investors towards large-scale infrastructure projects in Ukraine. The two pilot tenders for the concession of Kherson and Oliva seaports were launched in the autumn of 2019. According to the Ministry of Infrastructure of Ukraine, concession is one of the key strategies to both improve the efficiency of the current infrastructure in Ukraine, and to attract private investments.
The winner of the concession tender in the port of Kherson is a Georgian-Swiss consortium, while the Olvia concession tender has been won by a Qatari terminal operating company.
The more transparent concession procedure is expected to be beneficial for all the parties included, i.e., the investor, the state and the local community.
Deregulation
Serious deregulation efforts, having been made recently, have significantly eliminated bureaucracy. In Ukraine businesses and citizens are already enjoying beneficial effects of the ongoing decentralization reform, the local governance transformation, having started in 2014.
Large-scale deregulation and decentralization measures are aimed at deregulating business activities, harmonizing the Ukrainian law with that of the EU and attracting both foreign and domestic investments.
Major deregulation efforts included outsourcing of registration services from the Ministry of Justice to local governments and a private sector, simplification of registering property rights, reduction of the number of permits, approvals and licenses as well as the number of certificates, tax administration simplification, etc. Deregulatory measures are expected to have wide-ranging repercussions that would make public administration transparent and flexible.
How to Invest in Ukraine
Ukraine is undergoing positive changes and there are wide-ranging reforms underway to make the country an easier place to do business. Now, a business can be registered in just a few days. Moreover, in 2016, the registration of businesses was made easier due to opening a service centre providing a wide range of services – registration of legal entities, individual entrepreneurs and real estate.
Important statutory documents governing the foreign investment status in Ukraine include Law of Ukraine On Investment Activities (1991), Law of Ukraine On the Foreign Investment Protection (1991), Law of Ukraine On the Regime of Foreign Investments (1996), NBU Regulation No. 280 On Foreign Investment in Ukraine (2005).
Pursuant to Law of Ukraine On Investment Activities (1991), Ukraine guarantees the protection of foreign investments and real estate on a non-discriminatory basis to all entities engaging in investment activities, irrespective of their legal form and form of ownership.
Setting up a business in Ukraine, foreign investors can choose from a wide range of internationally recognized business structures such as limited liability companies, joint stock companies, foreign legal entity representative offices, joint ventures and individual entrepreneurs. The choice of the right legal form should be made depending on the specific situation and investors' business needs.
There is a range of options available to foreign nationals willing to invest in Ukraine, in particular:
opening an investment account with one of Ukrainian banks and making a foreign currency transfer to it from abroad;
making a direct transfer of foreign funds to the current account of a Ukrainian national from abroad;
selling foreign currency credited to the investment account and transferring the foreign currency sale proceeds in UAH to the investment account for the purpose of making a foreign investment;
other options provided for by the NBU Regulation No. 280 On Foreign Investment in Ukraine (2005).
Foreign nationals willing to reside, work or hire employees in Ukraine have to obtain a work permit or/and temporary residence permit.
Summary
Overall, the outlook for the Ukrainian economy is positive with foreign direct investment inflows growing, exports increasing, and the business climate improving. The most rapid development in recent years has been observed in the IT industry, agriculture, automotive industry, processing industry and renewable energy sector. The development is expected to continue in the years ahead, although investors should carefully assess sector-specific risks. Having all the right ingredients in place, Ukraine is emerging as an attractive destination for international investors. Despite a number of challenges, donors and investors appreciate the government's and society's willingness to transform Ukraine into a dynamic market economy.