May 25, 2020
Agriculture in Ukraine: overview
Agribusiness is the main growth driver for the Ukrainian economy. Ukraine has been known as the breadbasket of Europe, accounting for about 25% of the world most fertile black soil. Ukraine is the world's largest exporter of sunflower oil and one of the top exporters of grains.
The core agricultural crops making Ukraine one of the world leaders are grains and forage crops, including wheat, corn, barley, sunflower, sugar beet, legumes, fruits and vegetables, tobacco, etc. According to the State Statistics Service of Ukraine, average yield of grains has grown by 0.22 tonnes per hectare. In 2018, the yield amounted to 4.74 t/ha, whereas in 2019 it reached 4.91 t/ha.
Agribusiness in the structure of Ukrainian export
Agribusiness holds a major role in the structure of the Ukrainian export. As of the end of 2019, agribusiness brought almost 40% of the country's foreign currency earnings, retaining stable levels within the last 3 years.
Ukraine in the global export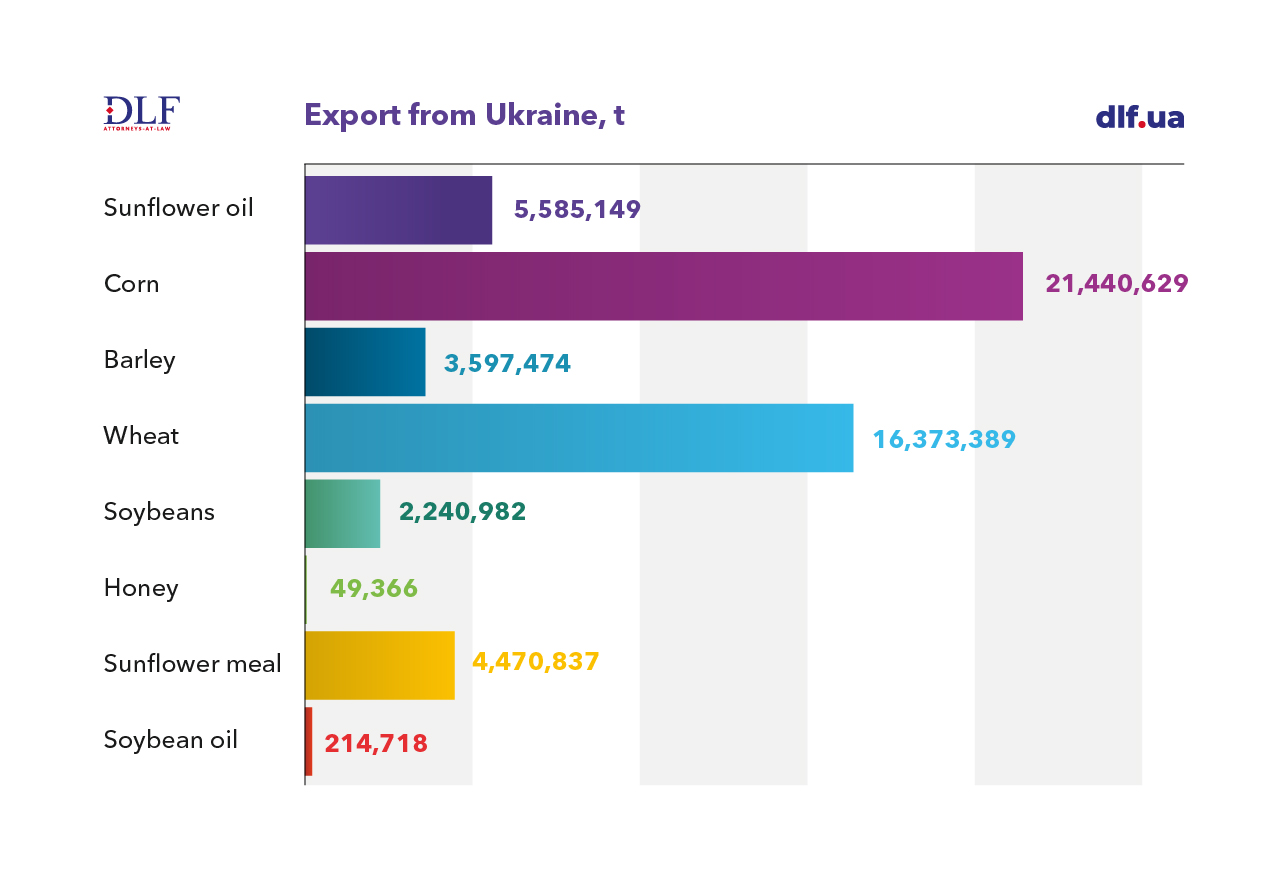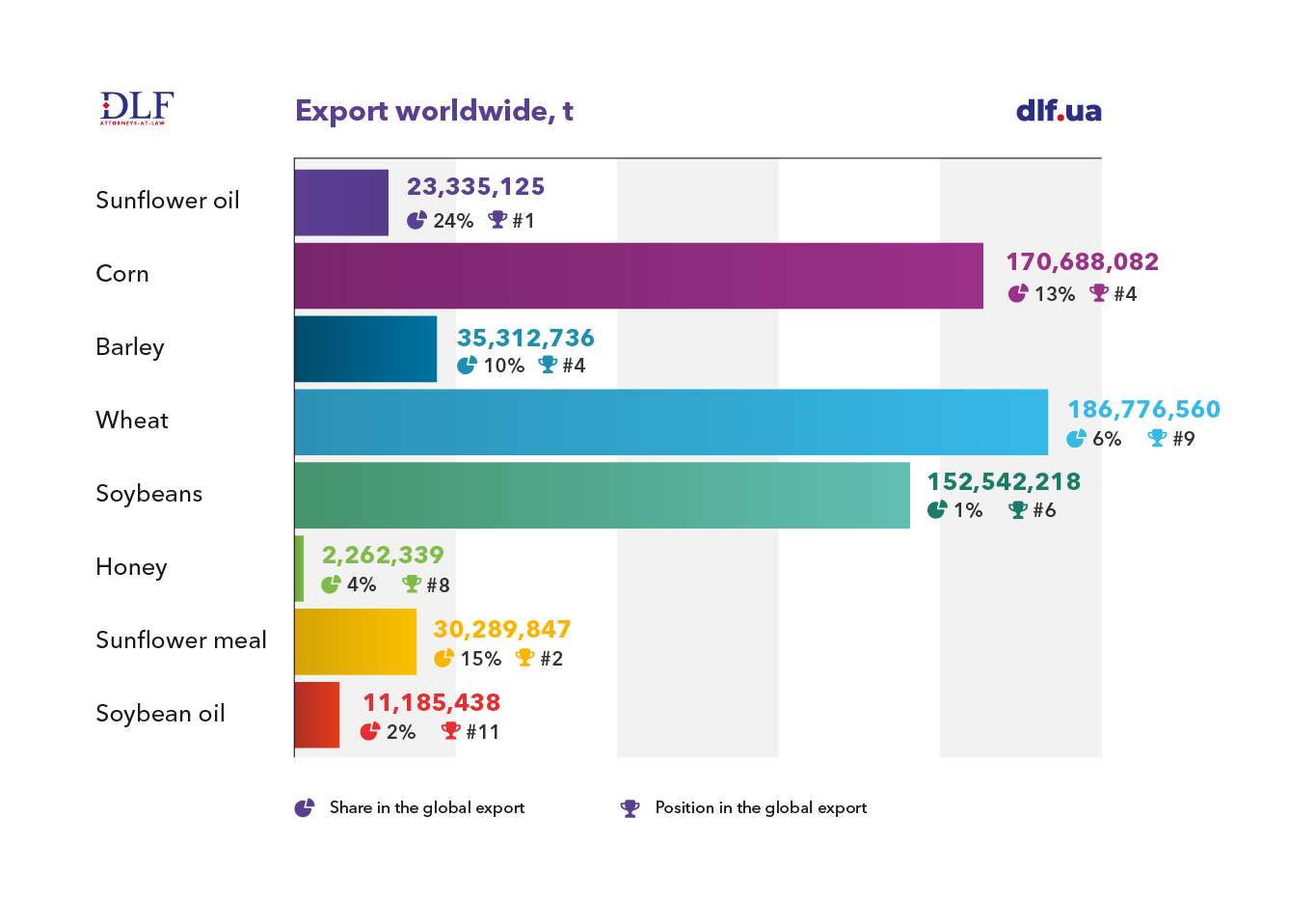 Producing 90-100 million tonnes of grains annually, Ukraine maintains its leading position in the world. What is more, Ukraine is the 3rd largest grain exporter worldwide (annual export amounts to 50-60 million tonnes).
According to the State Customs Service of Ukraine, as of 28 April 2020, Ukraine has exported about 50 million tonnes of grains, leguminous grains (including by-products of their processing) and flour.
Structure of Ukrainian agricultural lands
As of 2019, about 280 thousand hectares of agricultural land in Ukraine have been registered under organic production. The largest area, 133.4 thousand hectares, is occupied by grains production. Within the last 10 years, the area allotted to organic production has increased by 39 thousand hectares.
Export of agricultural products to the EU
Agribusiness retains its highest priority for the Ukrainian government, especially in connection with the Association Agreement between the EU and Ukraine and the implementation of the Deep and Comprehensive Free Trade Agreement (DCFTA). Since the signing of the Association Agreement, the export of agricultural products from Ukraine to the EU has increased by 37% (from 4.5 billion in 2013 to 6.1 billion in 2018, and 6.6 billion by December 2019).
What is more, according the monthly monitoring of agricultural trade performed by the European Commission, for the period from November 2018 through October 2019, Ukraine, having exported agricultural goods for the total amount of 7.3 billion EUR, was ranked 3rd among the largest suppliers of agricultural products to the EU.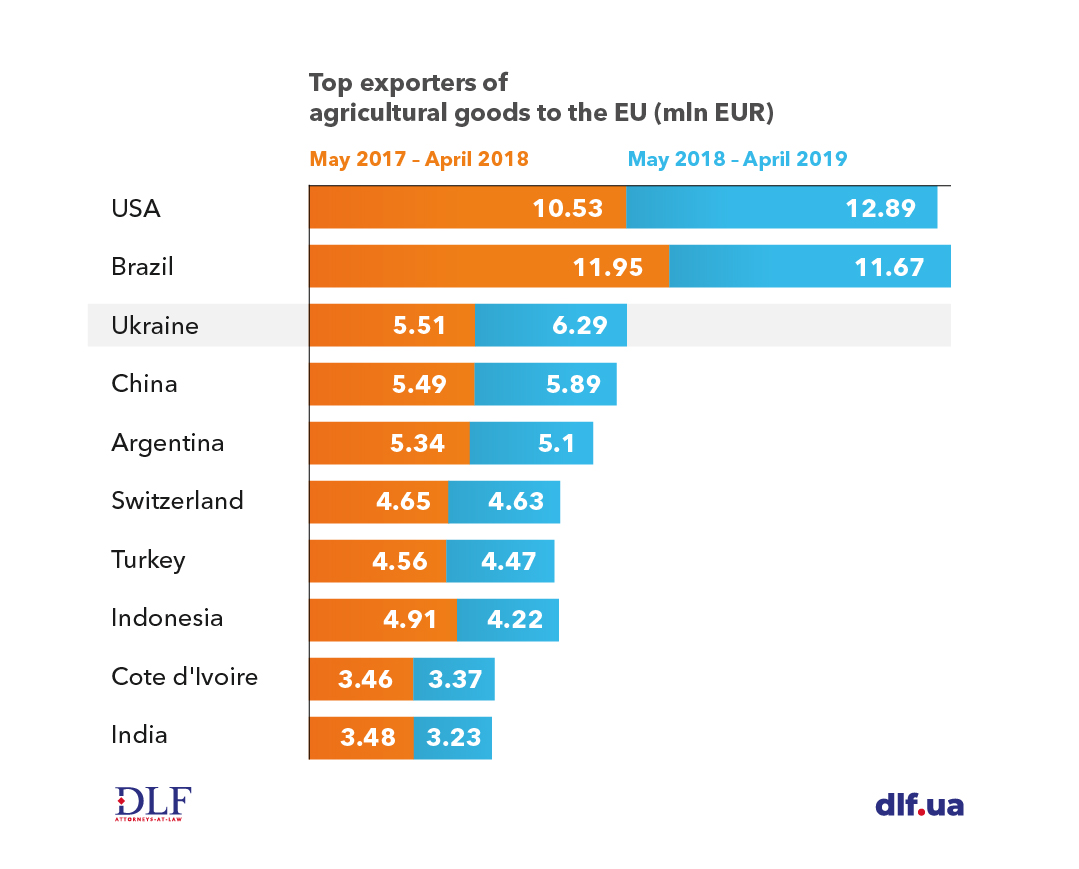 Since the establishment of the free trade zone in 2017, Ukraine managed to receive preferential quotas for duty-free export of honey, grape juice, processed tomatoes, pearl barley, oats, wheat, barley and corn.
Additionally, in the end of 2019, the European Parliament adopted amendments on poultry exports from Ukraine, increasing the quota for duty-free chicken meat export to 70 thousand tonnes a year till 2021. In 2019, Ukrainian exporters have fully filled the quotas for duty-free supply of honey (basic and additional), sugar, pearl barley and barley flour, processed starch, processed tomatoes, apple and grape juice, corn (basic and additional), wheat, poultry meat, butter, processed grains and starch.
Agrologistics
As the agribusiness markets and technologies are rapidly developing, the role of agrologistics is significantly increasing. Currently, agrologistics in Ukraine is at its initial stage. According to the data of the State Statistics Service of Ukraine, last year, 39.8 mln tonnes of grains and flours were carried by the railroad, 5.2-5.6 mln tonnes of grains were transported by water transport, and 15-17 mln tonnes were exported by road transport.
To unlock its export potential, Ukraine is aiming to upgrade the country's infrastructure, which includes sea ports, that are used for shipping agricultural products abroad. The strategy of infrastructural upgrade includes the development of sea ports and their transfer under concession, among others, to foreign investors. The two sea ports, Kherson Sea Commercial Port and sea port "Olvia" in Mykolayiv region, have become the pilot projects for the new concession procedure implementation in Ukraine.
The total investment amount is expected to reach 17.3 billion UAH (about 645.5 milion USD) for Olvia and 1.4 billion UAH (about 52.2 million USD) for the Kherson sea port.
Within the next three years, a new grain terminal with the capacity of 2 million tonnes per year (with 1.56 billion UAH of investment) is to be constructed at Olvia, whereas the Kherson sea port infrastructure is to undergo urgent renovation and upgrade, which should take an investment of 216 million UAH (about 8.1 million USD).
The next infrastructure object to be offered for concession is the sea trade port Chornomorsk, were investors might be attracted by the container terminal, as well as a ferry crossing. Following the Chornomorsk sea port, concession tenders for the Mariupol, Berdiansk and Odessa ports are to be announced.
Investing in agribusiness in Ukraine
The huge potential of the Ukrainian agro-industrial complex makes it a key economy sector in terms of investment, both domestic and foreign. According to the data by the State Statistic Service of Ukraine, during the period from 2014 to 2018, the amount of investment into the Ukrainian agribusiness has grown trifold, amounting to 300 billion UAH (about 11.2 billion USD), with 100 billion UAH (about 3.7 billion USD) having been invested in food production. In 2019, agriculture, forestry and fisheries have received 55.25 billion UAH (about 1.95 billion USD) of investment.
Foreign investors often opt for agribusiness in Ukraine since it allows for relatively fast return on investment and stable conditions, despite unforeseeable factors such as poor weather conditions.
This year, however, the volume of investment is expected to dicrease, as the potential investors await the land market opening, as well as due to the global pandemic.
Agritech: agriculture in the country of start-ups
It is commonly established that Ukraine possesses many advantages when it comes to agriculture development, including the fertile soils and favourable location. Yet currently, Ukrainian agribusiness is getting noticed by the foreign investors due to the high level of hi-tech innovations as well. Ukrainian agritech companies develop innovative solutions, aimed to improve the traditional agricultural methods and boost organic production.
Digital technologies and innovations are already greatly changing the way agribusiness is done, bringing its efficiency to a new level. The use of drones or unmanned aerial vehicles (UAV) in farming is seen as one of the most promising innovations in the field due to its high economic feasibility. Use of UAVs has diverse applications, including for efficient planning of farming, increased control at each stage of agricultural production, as well as chemical treatment of crops, etc. UAVs are able to provide crucial information in real-time, such data, collected long-term, can also be used for better dynamic understanding of every process. UAVs are equipped with special sensors providing for the detection of contaminated crops areas, targeted fertilization, spot spraying and irrigation. In as little as 3 hours a UAV is able to sow an area of 10 square kilometres. Other applications of UAVs include monitoring the workers, agricultural machinery and live-stock, guarding fields, etc. UAVs equipped with thermal imaging cameras allow for guarding and monitoring at night.
GPS technology introduces previously unforeseen capabilities, enabling farmers to control a wide array of parameters, including the following:
location and routes of all the machinery and equipment;
fuel consumption on the way, during field works and per 1 hectare of farmed land;
time when the machines enter and leave the field, idle time and time spent on land farming;
area of farmed land.
GPS technology also provides for:
field mapping and map export from various cartographic software and applications;
keeping cultivation history and crops rotation tracking;
automatic detection and identification of accessory equipment and the corresponding field works;
automatic identification of drivers for the purpose of work time tracking;
setting rates for particular field works for preliminary calculation of costs;
comparing planned field works with those carried out.
To sum up, IT-companies and start-ups, among which there are hardware and software developers and integrators, offer agricultural solutions that mostly fall into one of the major categories:
Land market opening in Ukraine
One of the key conditions for the increase of investment into the Ukrainian agribusiness is the opening of the land market. Under the recently adopted Law On Land Market in Ukraine, within two and a half years after the land market launch, the consolidated area to be owned by a single person will be limited to 100 hectares. Starting from 2024, the limit will be increased to 10 thousand hectares. Foreign citizens will only be entitled to acquire ownership of agricultural land upon a relevant decision taken through a nationwide referendum. The mentioned law does not stipulate the date of such a referendum, so it is hard to predict whether foreigners will be entitled to own agricultural land in Ukraine. Still, the mere fact that the land market is to be finally open after years of moratorium on agricultural land circulation is an important step towards further development of agribusiness in Ukraine.
Effects of COVID-19 pandemic on the Ukrainian agriculture
The COVID-19 pandemic has greatly shaken both the European and global economy. This is the first time the world economies faced a financial crisis caused by the slowdown of the economic growth due to a global healthcare emergency. Ukraine, along with other WTO member-states, has signed a joint statement pledging to ensure transparent and consistent trade in agricultural and food products during the pandemic. The signatories declare, among other things, their commitment to maintain transparent, sustainable and well-functioning agri-food supply chains and avoid measures that could have potential negative impact on food security, nutrition and health, so that this emergency situation does not disrupt international trade with regard to the essential products or result in unjustified trade barriers.
In line with the abovementioned statement, Ukrainian government officials have assured that Ukraine will not impose any restrictions on agricultural products trade, including grains export.